Top Guide to Delaware Online Casinos
Having just under a million residents, it makes sense that only three land-based casinos are available in the First State. These casinos are located alongside horse racing tracks, labelling them as "rasinos". This includes Delaware Park, Harrington Raceway, and Dover Downs, each offering a great selection of land-based casino games, ranging from slots to table games.
While the iGaming industry is booming with the best online casinos in other states, Delaware only allows access to the online sites from their land-based establishments. These sites are operated by 888 Holdings and provide games from Scientific Games. This decreases the selection drastically, missing popular sections such as live dealer games and offering less than 100 slots.
Are Online Casinos Legal in Delaware?
Delaware legalize Poker and online casinos in 2013, allowing residents and visitors access to three unique online sites that represent each of the rasinos in the state. These online casinos are regulated by Delaware Lottery Games, licensing only three brands with the same software, including Delaware Park, Bally's Dover, and Harrington.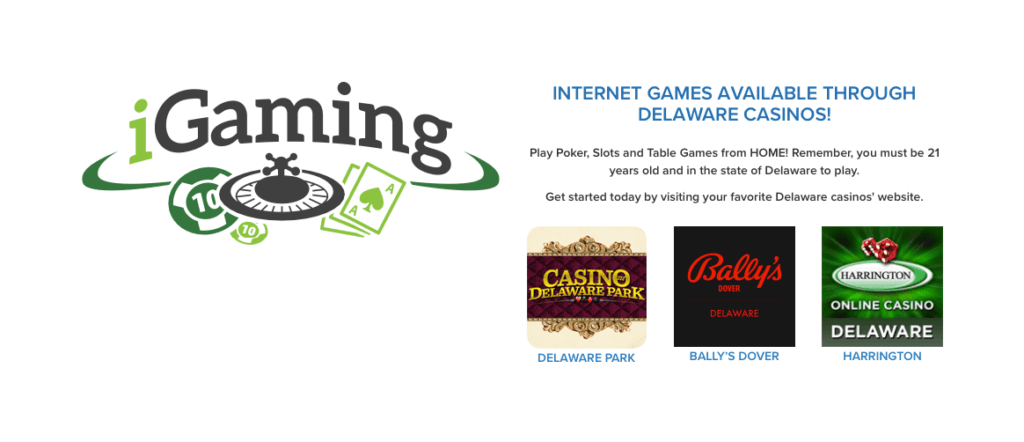 What Online Casinos Activities are Legal in Delaware?
To date, licenses are not available for online casinos that are not in the state. Therefore, it's not possible to join major online casinos such as BetMGM, DraftKings, and others to access their larger selection of games.
With that said, the licensed casinos in Delaware include various casino games such as slots, table games, scratch cards, and more. The game selection is limited and does not include live dealer games yet.
Online Casino Games
Online casino games were legalized in 2013 in hopes of generating over $9 million in revenue for the state from its less than 1 million residents. However, the iGaming sector has fallen short, managing just $3 million of combined revenue in 2016.
Online Poker
Online Poker was legalized at the same time as online casinos. The software is supplied by well-known 888 Holdings, offering a large selection of game types, tournaments, play and go games, and much more.
Online Sports Betting
As with online casinos, Delaware only regulated sports betting from the three gambling destinations in the state. The online sites provide access to multiple betting options, including various betting markets, horse racing, and more.
Legal but Limited for iGaming Fans 
Delaware was among the first states to legalize online casinos, even before New Jersey. However, by limiting players to only three sites with games from Scientific Games, it's certainly doesn't match up to the gaming opportunities available in the neighboring state of New Jersey. The casinos fall short in various aspects, including slot variety, live dealer games, mobile gaming, and more. Thus, it's no surprise that most iGaming players would simply visit NJ and enjoy their larger selection of casinos.
Frequently Asked Questions
The Delaware Lottery Games commission only provides legal access to three online casinos, representing each of the land-based casinos. This does not include BetMGM, DraftKings, or any other online casinos available in states such as New Jersey.
Currently, players and visitors in Delaware can access and play online at: Delaware Park Bally's Dover Harrington Players must be in the state of Delaware and at least 21 years old to join and play for real money.
Unfortunately, none of the currently licensed online casinos in Delaware provide access to live dealer games.
Currently, three land-based casinos are available in the state of Delaware. Each of these also provide an online casino, offering slots, roulette, blackjack, and other casino games.