Bushi Sushi review
How much do you know about Bushi Sushi or any other slot machine game from Gold Coin Studios for that matter? Do you believe learning more about this game will give you a better chance of winning?
Well, here at usonlinecasino.com, we are not about promising you a pie in the sky, or a sure-fire strategy to win on Bushi Sushi. For the avoidance of doubt, let us state here that there is no such thing.
Our Bushi Sushi slot review is a narration of what you get with this slot. It is an unbiased analysis of the features you find here and how they stack up with today's market.
What I checked in Bushi Sushi
Table of contents:
☑Bushi Sushi Game and Bonus Features?
☑What innovative Special Features can be seen in Bushi Sushi?
☑What's the Story behind Bushi Sushi's Theme?
☑Is Bushi Sushi better than the others?
What is Bushi Sushi?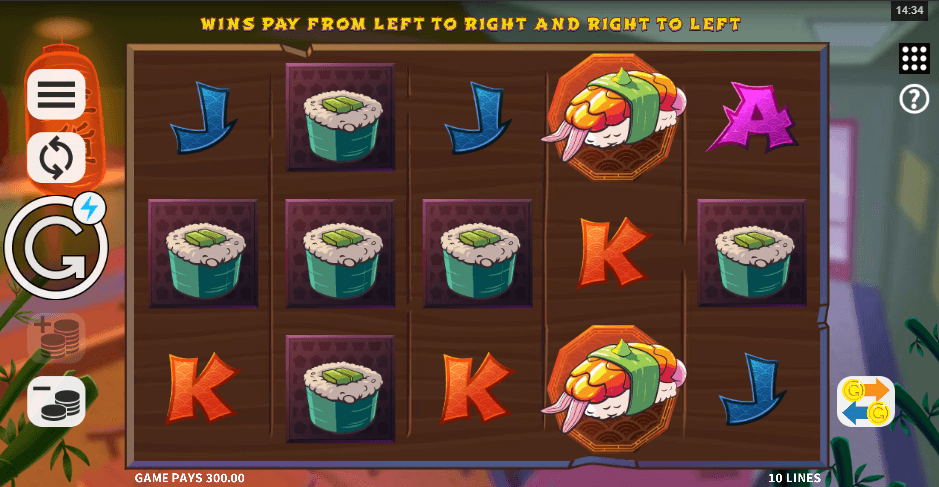 | GENERAL DETAILS | | | |
| --- | --- | --- | --- |
| Slot type | Video Slot | Number of rows | 3 |
| Provider | Gold Coin Studios | Reels | 5 |
The Bushi Sushi slot game has a Japanese theme and was released in 2021 by Gold Coin Studios. This game has 10 paylines that pay both ways and a limited array of extra features. The Bushi Sushi slot RTP is 96.06%, which is well above average. Fit for all types of players, Bushi Sushi exhibits low to medium volatility and has a $0.10 to $300 per spin betting range.
Bushi Sushi Game and Bonus Features?
| FEATURES | NO. | LIST |
| --- | --- | --- |
| BASE GAME FEATURES | 2 | Expanding wilds, combined wilds |
| BONUS GAMES FEATURES | 3 | Free spins, retriggered free spins, expanding wilds |
Base game features
Bushi Sushi is a simple game with basic features to keep players engaged. You can look forward to expanding wilds and a combined wilds feature that pops up at random during the base game.
The symbols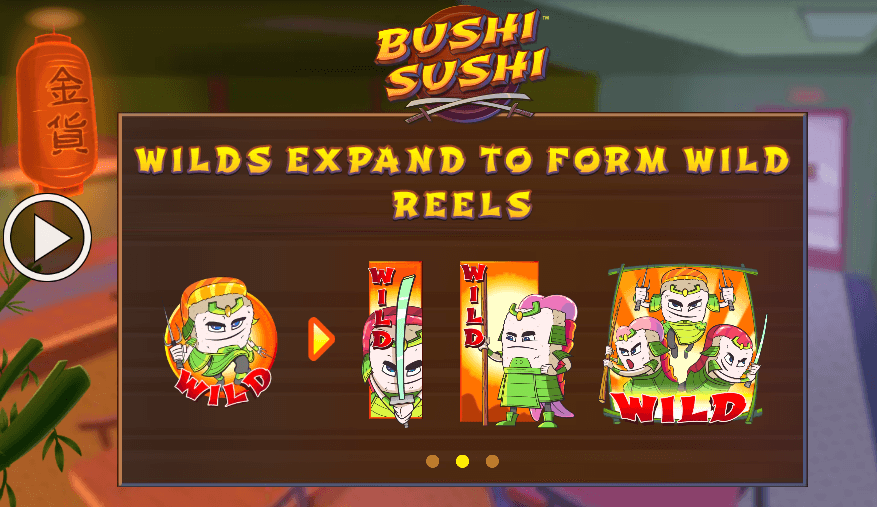 Like any other online slot, Bushi Sushi has a collection of low payout and premium symbols. Card values represent the low payers, but players can look forward to lucrative benefits when the sushi menu hits the screen.
Symbols to look out for include the wild, which lands on reels 2,3, and 4 to replace any icon it chooses. The yin/yang bonus symbol also has great rewards when it shows up, but we will look at that later in this Bushi Sushi review.
Paytable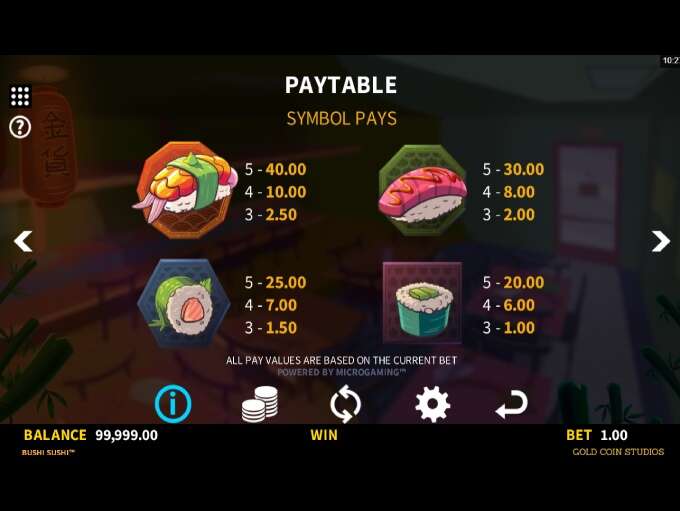 The Bushi Sushi slot paytable is made up of low paying card symbols from J to A. Most of the action starts when you land the premium symbols represented by the sushi warriors. Here the top paying sushi rewards you 40 times over.
Special events that can occur during the base game
You need to look out for two main features when playing in the base game. Bushi Sushi wilds appear on reels 2, 3, and 4. Every time they do, they expand and cover the entire reel. Wilds in Bushi Sushi can replace any symbol including the yin yang bonus.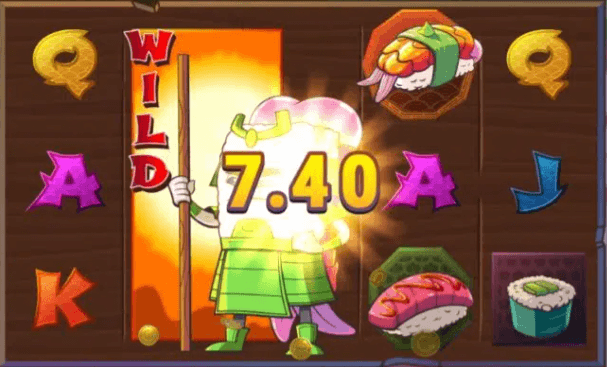 Another feature you will find in this game is that wild combined when the land on the reels side-by-side. However, in this Bushi Sushi New Jersey review, it's worth noting that this is purely for aesthetic purposes. Combined wilds used no better rewards than the individual icons.
You can also find the sushi warrior appearing on the screen mid-game. When this happens, you will usually find a wild symbol on the reels. It's not guaranteed, but you can look forward to a 100x payout.
Simple bonus game features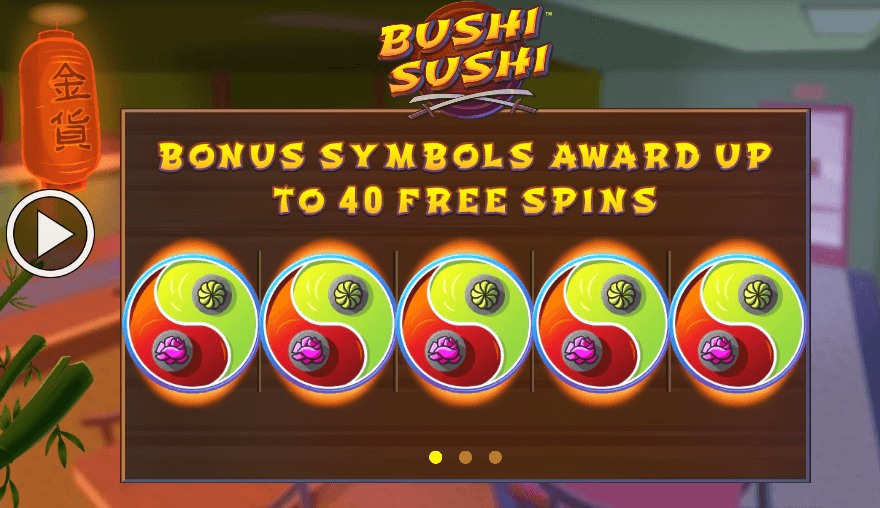 This is a simple slot machine game and most Bushi Sushi reviews you will find online point this out. So, if you want features that will blow your mind, you best look elsewhere. But we have included some Bushi Sushi bonuses in this review.
This game has a standard bonus which comes up when you land at least three yin yang symbols on the reels. You will receive 10, 15, and 20 free spins for three, four, and five symbols on the reels, respectively.
Free spins can be retriggered in the bonus game until you reach a maximum of 40. This will also get you a maximum payout of 10x.
What Innovative Special Features can be seen in Bushi Sushi?
| SPECIAL FEATURES | |
| --- | --- |
| Autoplay option | 👍 |
| Change the speed | 👍 |
| Mute the sound | 👍 |
| Adjustable bet size | 👍 |
| Left-hand mode | 👍 |
Autoplay – casino gaming is serious business, and if you want to be successful you better be in it for the long haul. That's why many players are excited that Bushi Sushi offers an autoplay feature, that you can fire up and let the gameplay itself.
Change speed – a fast play feature is available that allows you to fast forward your gameplay.

Mute the sound – let's face it, the Oriental jingle may not be for everyone. Bushi Sushi developers understand this and have placed a mute button conveniently in the game so you can turn the beat down if you need to, just as we did in our Bushi Sushi slot machine review.
Adjustable bet size – it's always good to play on your own terms and a bet size that fits your budget. Bushi Sushi allows you to play around with your betting level so you can find a comfortable spot.
Left-hand mode – Bushi Sushi slot operators have thought of everything. Even if you are a left-handed player, you can switch the settings and place the spin button on your prefered side.
What's the Story Behind Bushi Sushi's Theme?
Bushi Sushi carries an unmistakable Japanese samurai team. But it is a bit whimsical as the samurai is sushi wielding a sword. The game clearly appeals to players looking for an oriental team. That said, any serious online slot machine lover will get a kick from what Bushi Sushi displays.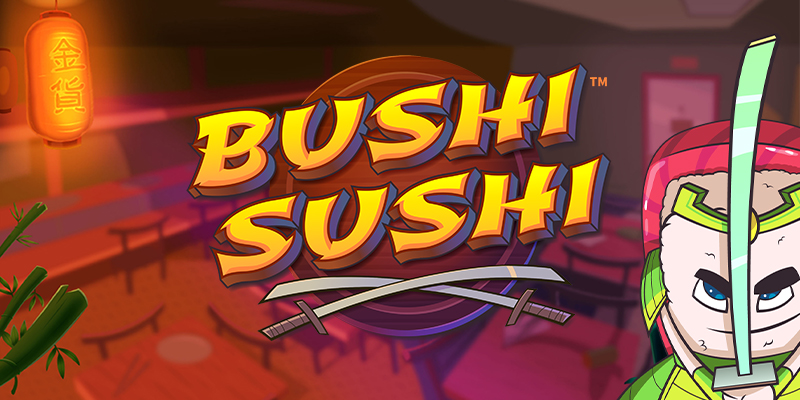 Pretty decent graphics
The slot itself may feel somewhat outdated, but we found nothing bad about the quality of the game graphics. Bushi Sushi is well designed and players can expect an exhilarating experience in this slot.
A word about the soundtrack
One thing you need to understand about the Bushi Sushi soundtrack is that you either love it or you don't. The track is reminiscent of old Japanese movies, you remember – the ones with subtitles. But whether you like the soundtrack or not is neither here nor there, because you can easily switch it off in the game settings.
Who made Bushi Sushi?
Gold Coin Studios (GCS) released the Bushi Sushi slot in 2021 for Microgaming. GCS is a small online casino games manufacturer with just over 10 slot machines to its name. Other titles coming from this supplier include Abracatdabra, Animals of Africa, and Smooth Sailing.
Conclusion – Is Bushi Sushi better than the others?
There are many online slots in New Jersey and other legal gaming jurisdictions. Finding the one which is right for you can be a tedious process. Luckily, you need not go from game to game testing them out because we have already done it for you.
Bushi Sushi is a standard slot machine game coming from Gold Coin Studios. It does not break any rules or offer groundbreaking features, but still manages to entertain visitors gracing its reels.
Players looking for features that will knock you off your feet would do well to check other online casino games on Bushi Sushi sites. But, this is still a great slot, especially for newbies looking to learn the ins and outs of online slot machine gaming.
Author
Casino bonus specialist
Pride is a five-year veteran in the exciting world of US and UK casino gaming. His mantra is "Keep it simple," which he always does while giving you the low down on the latest casino gaming trends. Whether it's reporting on breaking news or getting down to the brass tacks in a detailed casino review, Pride provides clear, reliable, and unbiased information to help you make your gaming decisions.