Monopoly Megaways review
Monopoly Megaways: The Classic Board Game Hits the Slots
Monopoly Megaways is a new slot release from Big Time Gaming
It's a new iteration of a classic board game meant to bring nostalgia to your day
Free spins and cascading symbols are only a few of the unique features
Big Time Gaming brings you back to the nostalgia of classic Monopoly with their new Megaways slot game. In this Monopoly Megaways review, we'll discuss the game's many benefits. This includes its 96.36% RTP and intriguing features, like the cascading symbols and free spins.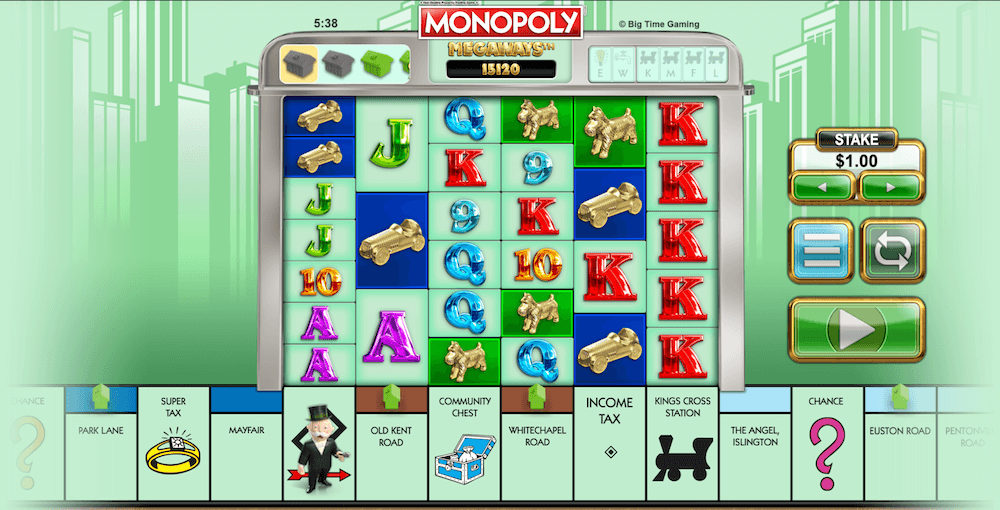 Find the Best Bonus to Play Monopoly Megaways
US players can enjoy playing Monopoly Megaways at all of the following online casinos:
Monopoly Megaways Symbols and Payouts
Part of what makes Megaways slots so popular is how many ways you can win at Megaways. With six reels and over 117,649 paylines, Monopoly Megaways has a plethora of possible combinations.
Between two and seven matching symbols can arise on the reels at a time, giving ample opportunity for combinations. These slots are a new way to line up your symbols and find a winning combination, paying out from left to right.
Symbols
The varying symbols are nostalgic. The battleship, top-hat, race-car, and dog are only a few of the many characters used in this modern Monopoly-themed slot.
Paytable
The symbols worth the most are the player pieces from the original Monopoly board. The top hat can be worth up to 50x your stake and the little dog worth up to 0.9x your stake.
Monopoly Megaways Min/Max bets
The smallest bet is a mere dime and the maximum is a generous 20 dollars authorizing a hefty payout.
Monopoly Megaways RTP, Volatility & Hit Frequency
With its high volatility rate, don't expect the hit frequency to be often. However, the game makes up for it with an RTP of 96.36%.
Monopoly Megaways Maximum Win
The largest win available in the Megaways title is worth 14,700x your stake. Placing a maximum amount of $20 could win you up to $294,000.
---
Monopoly Megaways Features
If there's one thing this game can provide you above anything else, it's variety. This exciting Monopoly spin-off has a wide range of features from free spin to a reel adventure. These features are what make the game truly unique.
Wilds Respins and Other Base Game Features
Wilds
There are no specific wilds within the game. However, the board at the bottom of the screen comes into play with each spin, allotting bonuses as they come. For example: when you land on a particular space then you may gain a free spin.
Reactions Feature/ Cascading Symbols
There's a reason cascading symbols have been around as long as they have. When a winning combination appears, those victorious symbols explode. The characters above then trickle down in their place, improving your chances for new sequences. Cascading symbols are also referred to as reaction features.
Reel Adventure
This feature allows you to upgrade your gameplay and increase your chances of winning. For example: if you land on GO, your next spin will have "Max Megaways".
As Monopoly Megaways is a story-based slot, you are bound to land on GO as you progress. The more you play, the more you land on GO, and the greater your chances of winning become.
Monopoly Megaways Free Spins
Fifth House Free Spin
This free spin is only accessible once a fifth house is placed on a property. With this, you gain eight free spins or more.
"Chance" Free Spin
This free spin activates when you land on a "Chance" space on the Monopoly board.
Unlimited Win Multiplier
Triggering this multiplier can only occur during a free spin. This multiplier can increase by owning utilities and railroads, raising your winnings.
Train Station Free Spin
If you land on one of the ever-coveted train stations, you will also gain a free spin.
Monopoly Megaways Special Features
The most remarkable thing about this game's style is that it combines slots and a board game. So while you're spinning the reels and lining up symbols, you're also buying properties and houses.
---
Graphics and Sound
The brilliant software developer at Big Time Gaming has made Monopoly exciting again. At the bottom of the screen, you get to see and hear an animated Monopoly Man point out your winnings and jump around the board on the bottom of the screen.
---
Other Slots to Play If You Like Monopoly Megaways Slots
The Internet has created many gambling opportunities. Slots, being the most popular, are the ones with the most diverse range.
Monopoly Megaways is only one of the many Megaways slots available online. Others include Kingmaker Megaways or Opal Fruits, both creations of Big Time Gaming.
Conclusion
Monopoly Megaways kindles nostalgia in us all. From the beloved symbols to the familiar properties, it's all reminiscent of the original Monopoly. Big Time Gaming brings new life to the game through the animated Monopoly man.
While it's high volatility, the amount of features the game provides makes up for it. Whether you're curious about online slots or you consider yourself a pro, this game is a surefire way to keep you entertained.