Moon Princess review
Moon Princess is a Play'n GO slot released in 2017 and has since become one of their most popular titles. It offers a good RTP, high max win, and multiple game features.
Moon Princess Review – Enjoy Multiplying Free Spins
While conducting my research for this Moon Princess review, I wondered whether this slot offers worthwhile wins with its bonus features. While slot games should always be played for entertainment, there's nothing more exciting than seeing bonus features triggered to deliver electrifying wins. While testing this slot, I explored the bonus features, and the chances of triggering them.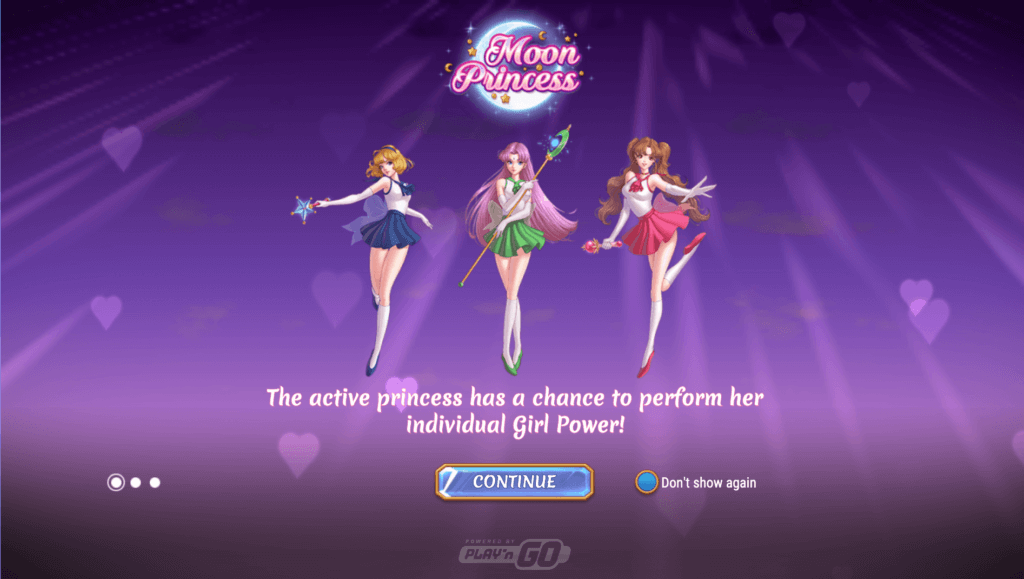 Elements I Checked in Moon Princess
To ensure I provide an unbiased and accurate Moon Princess review, I explored specific elements of the slot.
General information
Bonus game features and how they're triggered
Special features you can adjust
The slot's theme
The game provider
What is Moon Princess?
I first considered the basic details of this slot.
GENERAL DETAILS
Slot type
Video Grid Slot
Number of rows
5
Provider
Play'n GO
Reels
5
I found this slot to be a simple 5×5 grid slot, action-packed with magical bonuses. Play'n GO went all out to deliver a video slot featuring girl power and exhilarating gameplay.
Game and Bonus Features of Moon Princess
In this Moon Princess review, I also explored the slot's different game and bonus features, as it gives you a better idea of what to expect when spinning the reels.
| | | |
| --- | --- | --- |
| FEATURES | NO. | LIST |
| BASE GAME FEATURES | 4 | Moon Wild, Princess Bonus, Princess Trinity Meter, Free Spins |
| BONUS BUY FEATURES | 0 | None |
| BONUS GAMES FEATURES | 1 | Princess Free Spins |
Find Fantastic Base Game Features
I found the base game features to deliver sensational gameplay with stunning features. The common elements of the base game deliver increased chances to win.
Symbols
The high-paying symbols are the three princesses, while the low-paying ones are celestial symbols. You'll also find the wild moon symbol appearing whenever a combination of three symbols is won.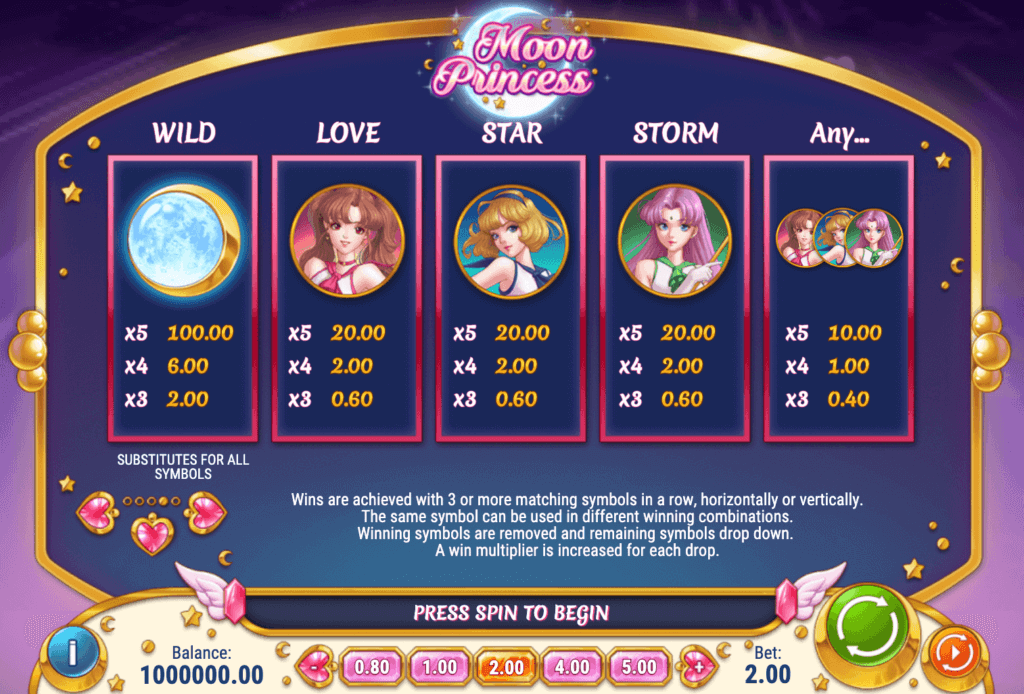 Paylines and Bets
You win when three or more of-the-same symbols appear in a vertical or horizontal line adjacent to each other. The slot is great for low stakes players and high rollers alike with a bet range of $0.20 to $100 per spin.
Payout and Maximum Win
This slot has a good RTP of 96.50%, with high volatility. Your maximum win possible is 5000x your bet, which leads to a maximum win of $500,000.
Princess Bonuses
One of three princess bonuses randomly activates in the base game. The Love bonus will transform one set of symbols into another, while the Star bonus will add one to two wild symbols to the reels. The Storm bonus will destroy two sets of symbols from the reels allowing others to drop and give more winning chances.
Princess Trinity Meter
During the base game, you can activate the Princess Trinity Meter. Each win related to the high-paying symbols adds to the Trinity meter, and once the meter is filled, you can win the Trinity Princess bonus. All three princess' bonuses will activate one after the other in an attempt to clear the reels. Each win added to the meter also adds to the Multiplier Drop.
Bonus Buy Feature Unavailable
Unfortunately, Play'n GO slots don't offer the Bonus Buy feature.
BONUS BUY COSTS
Minimum-Maximum cost to buy the feature
/
Bonus buy cost (how many times X base bet)
/
Number of free spins unlocked
/
No Hold and Win Mechanics
You won't find any Hold and Win mechanics but many other features.
Bonus Game Features – Harness Magical Girl Power
During the bonus game, I found that the Princess Trinity Meter isn't available, but you can choose the Princess bonus you want to be activated. You activate the free spins feature by clearing the reels of symbols, as winning symbols disappear from the reels.
Princess Free Spins
Once you've triggered the free spins, you can choose one of the princesses. The Love princes will give you four free spins, the Star princess five free spins, and the Storm princess eight free spins. The selected princess' powers will activate on non-winning spins during the free spins to award more winning chances.
Free Spins Meter
While the Princess Trinity meter isn't active, your wins related to the princess symbols still add to the meter. However, it now awards free spins when full. The number of free spins added depends on your selected princess, with Love giving four, Star giving three, and Storm giving two free spins.
Great Special Features Available in Moon Princess
SPECIAL FEATURES
Autoplay option
👍
Change the speed
👍
Mute the sound
👍
Adjustable bet size
👍
While testing the slot for this Moon Princess review, I explored the special features you can adjust that affect your gameplay. I was impressed with the available settings, as you can access 10 to 100 autoplay spins and choose fast play to spin the reels. You can also choose whether you want to mute the sounds. Lastly, your bet, per spin, can be adjusted with the buttons at the bottom of the screen.
Find Out the Story Behind Moon Princess' Theme
Fans can recognize the magical girl theme of this slot from a mile away. It resembles the popular Sailor Moon show, which is a popular TV show from Japan that became popular globally. The game offers anime graphics, which are killer, as is the soundtrack.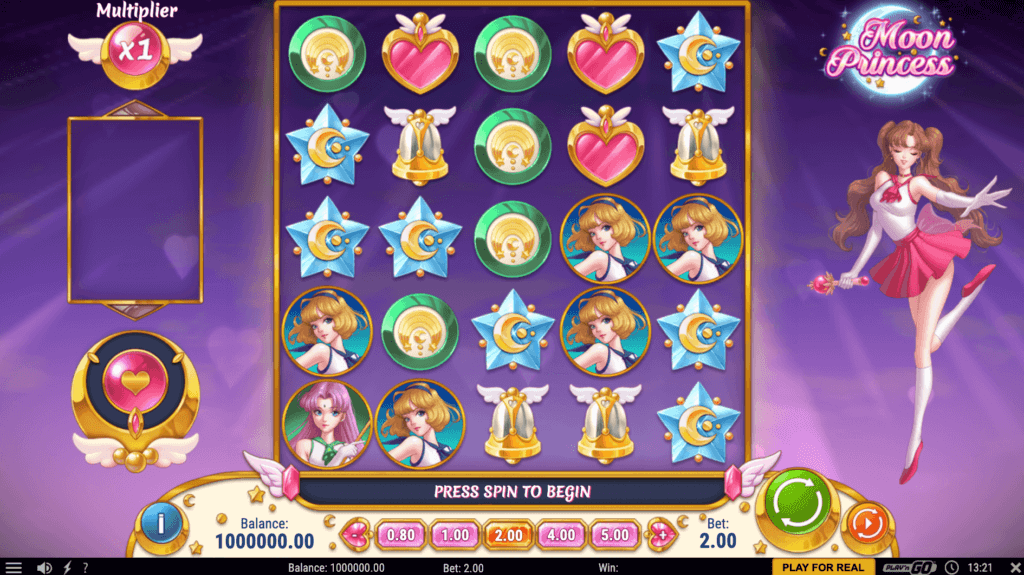 Magical Graphics
The graphics further endorse the connection to Sailor Moon, drawn in a traditional anime style. At the start of my Moon Princess review, I was amazed at the crisp and beautiful graphics featuring magical events.
Game-Like Sounds
The base game sounds similar to an upbeat, old-school video game soundtrack. However, you'll find a voice announcing each Princess bonus and magical tinkling in the background.
Who Made Moon Princess?
Play'n GO created this slot, which can be seen in the excellent graphics and fun features. One of the giants in the industry, Play'n GO was founded in 2005 and continues to deliver thrilling slots.
Some Great Slots by Play'n GO We Love!
Moon Princess 100
Tale of Kyubiko
Book of Dead
Why Moon Princess is a Better Option Than Other Slots
During my Moon Princess review, I found that this slot offers many extra features specifically aimed at helping you land another win. You keep getting more from the princess features randomly activating on a non-win spin to the Trinity meter affording multiple bonuses. Unlike many other slots where you hardly see the bonus features, you have many unique features triggering in the base game, not to mention the free spin features. I thoroughly enjoyed the gameplay and believe it's a worthwhile slot to try if you love activating bonus features for more possible wins.
FAQs
Can I play Moon Princess for free?
Yes, the demo game is available at casinos for registered players, but note that you can't withdraw any winnings from a demo game.
Where in the US can I play this slot?
Play'n Go titles are available to players in New Jersey and Michigan, with hopefully more states to follow as the company procures more US licenses.
What do I win if I clear the reels during the free spins?
Each time you clear the reels of symbols during the free spins, you're instantly awarded 100x your bet.
How many free spins can I win in total?
You can win between five and eight free spins from the base game, and then trigger more free spins in the bonus rounds up to a maximum of 20.
Why is Bonus Buy not available?
Play'n GO has stated that they take their responsibility to players seriously and, as such, do not use the Bonus Buy feature in their games that are meant to be entertaining.
Which princess bonus is the best?
Each bonus awards a unique effect, but we found that the Storm princess is more likely to clear the reels, while the Love and Star princess bonus is more likely to activate the Princess Trinity Meter.
Note to writer: Good job as the points were made well and pretty clear but the language needed to be cleaned up. Also the TV show Sailor Moon is popular but you need to explain it better, as the US audience may not be as familiar with it. Just a few other changes had to be made but to the language and flow, as the points were good.