Pillars of Asgard review
Can you beat the Gods?
Pillars of Asgard is a Nordic-themed slot game (as you would expect), and its colors are pleasing to the eyes. The background colors range from ice-white to different blue shades, contrasting with the reels' vivid colors.
The sound effects are of high quality and engaging. The soundtrack is quite realistic, with mesmerizing percussions and voices that make you want to keep spinning!
How I tested Pillars of Asgard
I've followed a few steps to write this. I'll explain them here in detail.
Visited the developer's website: It's a game developed by the Scientific Games Studios with NextGen's software. One of the best ways to get to know about a game is by reading its description straight from its developer.
Downloaded the Game Guide: Although Pillars of Asgard's gameplay is mostly about pushing a button, reading the Game Guide is essential to know the symbols and combinations of the game.
I opened the demo version and found the developer's website: Another fantastic way to get to know a game is by trying its free demo version and checking all its features.
Then, I explored the options around the "Play" button: You can set an autoplay mode with scheduled bets or learn the game's rules on the menu "Info."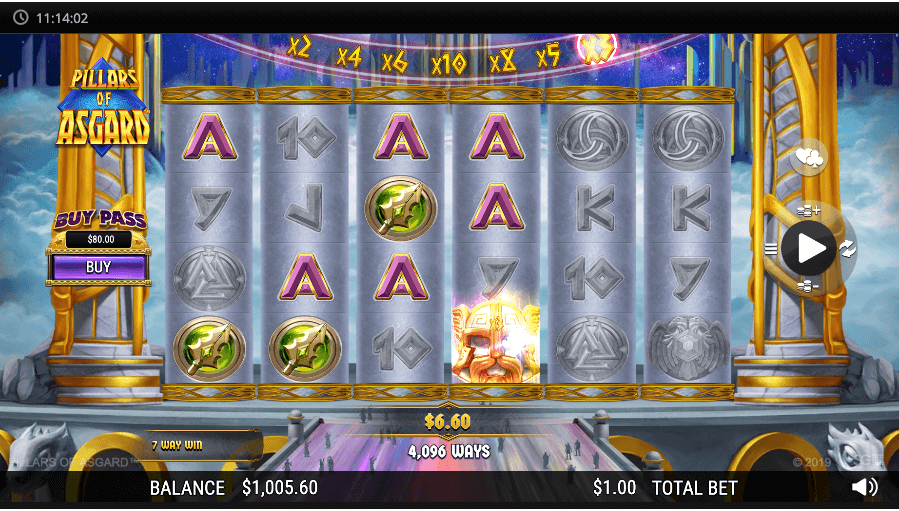 Main impressions
The gameplay is engaging and full of options. Figures mix up cards from nine to Ace, Nordic runes, and Odin, which is the wild, totaling 12 symbols. The scatter is a blue-jeweled crown and grants free spins if it appears in three or more slots.
If it keeps coming during the bonus spins, it will expand the rows vertically, boosting your winning chances. It didn't take me too long to hit a magic combination of three blue-jeweled crowns on the reels in the demo version.
At the center bottom of the screen, the game displays how many ways to win there are, which is quite useful information to have. It also reinforces the idea that the next spin can be your lucky one since there are so many winning combinations.
Play Pillars of Asgard with the best bonus
How to play Pillars of Asgard?
It's a game of six expanding reels and four starting four lines, increasing to up to 10 lines. Its RTP is 96.1%, rising to 96.5% during the bonus feature. It's a very high volatility game. It means that gains tend to be small when you win at all, especially if your wager is low.
Nonetheless, there are up to 1 million winning combinations. If you have enough patience and funds, you can wait until you strike five Odins, then your bet is multiplied ten times, or get three scatters and trigger the bonus feature. It starts with 4,096 ways, but it jumps to 15,625 when every reel increases a line in the first spin of the Reel Rise.
Pillars of Asgard's Symbols & Payouts
The symbols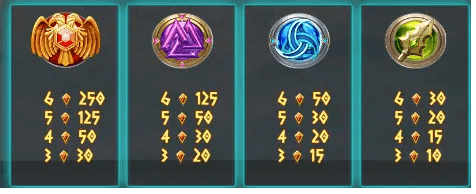 Min/max bet, autoplay option?
$0.25 to $50.00. Yes, it has an autoplay option, where you can set how much you'll bet and for how many spins.
RTP
96.1% or 96.5% with Bonus Buy.
Volatility
The game is a high volatility slot, which means that the chances of winning are lower, but when you do, the payouts are massive.
Hit frequency
The hit frequency of Pillars of Asgard is unknown a the time of writing. However, you can be sure that you'll enjoy the game and land decent payouts if you keep spinning.
Jackpot and the maximum win
There are no jackpots, but you can win up to 25,000x your wager.
---
Game Features:
Wilds, re-spins, and other features
Eye of Odin (Wild Multiplier)
Wild Multipliers are triggered by Odin's figures, a.k.a. the wild. In case Odin lands on a winning combination, a random multiplier increases the prize. The more Odins that you have, the higher your multiplier can be. Here are your chances, according to Odin's favor:
· One wild symbol – 2x, 3x, 4x, 5x, 6x, 8x, or 10x multiplier.
· Two wild symbols – 3x, 4x, 5x, 6x, 8x, or 10x multiplier.
· Three wild symbols – 4x, 5x, 6x, 8x, or 10x multiplier.
· Four wild symbols – 5x, 6x, 8x, or 10x multiplier.
· Five wild symbols – 8x or 10x multiplier.
Multiplier
There are multipliers up to 10x.
Reel Rise
You can increase the number of positions on reels by hitting a specific combination. It happens when you get scatters during your free spins. Reels can be stretched to 10 positions on a single reel.
You can take advantage of this feature when there are three or more scatters at sight. For this combination, you get 20 free spins, and all reels rise in one position.
During this feature, any scatter increases whatever reel it lands in one position more.
Gamble Button
In the end, if you're still feeling lucky, you can bet your winnings by hitting the Gamble Button, with a symbol of hearts and clubs right above the Play Button. Here, you can choose to gamble based on the card color or suit. If you hit the right color, your winnings double. If you choose the right suit, your winnings are quadrupled.
Odin's Blessing
When any row extends until the 10th position, Odin's Blessing is bestowed upon you. For each maxed-up reel, you get five free games. Scatters change into wilds while this feature is active.
Free Spins
Here, free spins are related to scatters. The more you have, the greater your chances of winning. Your possibilities may grow on this proportionally:
· Three scatters will give you one extra row and 15,625 ways to win.
· Four scatters will give you two extra rows and 46,625 ways to win.
· Five scatters will give you three extra rows and 117,649 ways to win.
· Six scatters will give you four extra rows and 262,144 ways to win
Rise of Odin
This feature appears when all six rows expand to their maximum of 10 positions. A random row becomes a "Floating Wild Stack," which is a row full of wilds, moving from place to place each spin.
Buy Pass
This option allows you to jump straight to the Reel Rise feature by the godly fee of 80x your initial bet. Your chances won't increase if your initial bet is high, although your winnings may.
Next to the "Buy" option, there's the option Take a Chance, where you test your luck to reach Reel Rise, with 50x your initial bet. You can increase your chances in this option by also increasing your bet. Here you can gamble up to 70x your initial bet.
Graphics & Sound
Facts:
| | |
| --- | --- |
| Graphics | 2D |
| Optimized for Mobile | 👍 |
| Music | Heavy percussion, voices |
| Special features | None |
OPINION: Pillars of Asgard Audio is hypnotizing
Graphics are 2D, very rich in colors and details. The vivid colors of figures on the reels contrast with the cold colors and clouds in the background. Mixing heavy drums and enchanting voices was a brilliant choice of soundtrack: Pillars of Asgard both hypnotizes you and get your finger-hitting play with the music. It's also optimized for mobile.
Bonus Buy?
Yes. It costs 80x your initial bet. On the "Take your Chance" option, you can gamble for a chance to enable the bonus, betting 10x of 70x of your initial bet. Here, your chances increase proportionally.
What is the volatility of Pillars of Asgard?
It's a high volatility game. Pillars of Asgard's RTP is 96.295%, not too far away from a low volatility slot.
What type of slot are Pillars of Asgard?
Pillars of Asgard is a video slot.
How much can you win playing Pillars of Asgard?
You can win up to 10,000x your wager.
Verdict
Pillars of Asgard is an entertaining and exciting game! The graphics are beautifully drawn and colored but not confusing. The predominance of the light-blue color is somehow relaxing, and with up to 1million ways to win, there's no way to get bored.
The sound effects are of excellent quality. The music resembles something ritualistic, with pounding drums and rhythmic voices, and adds a lot to its atmosphere.
If you want higher doses of adrenaline, you can always go straight to the Reels Rise, although for a relatively hefty fee. Beware: getting to Reels Rise doesn't guarantee you see your "investment" back. So, if you want to go for it, make sure this money is really expendable.