Rainbow Riches review
Rainbow Riches, also known as Road to Riches, has been adapted from physical slot machines for an online audience. Barcrest has created this game because it is such a big favorite. Get ready for a comprehensive overview of Rainbow Riches, including the symbols, wilds and no less than three bonus features! Check out the review to find out more.
How I tested Rainbow Riches
I only want to provide accurate and thorough reviews. Rainbow Riches has become a very popular slot machine in the US. Here are some important considerations in my slot reviews:
The slot symbols: What do the symbols look like and how much do they pay?
Minimum and maximum bet, autoplay option: Does this slot appeal to all budgets, high rollers and smaller ones?
The payout rate: What is the average return to player?
Volatility: Are the wins elusive but large, or regular but small?
Jackpot and/or maximum win: Does the slot machine have a jackpot, or what is the highest return on a spin?
Wilds, re-spins and other functions: What are the features and bonus features of the game?
Bonus-buy option: Is there an option to skip straight to the feature?
Graphics & sound: What does the slot machine look like and how does it use its theme?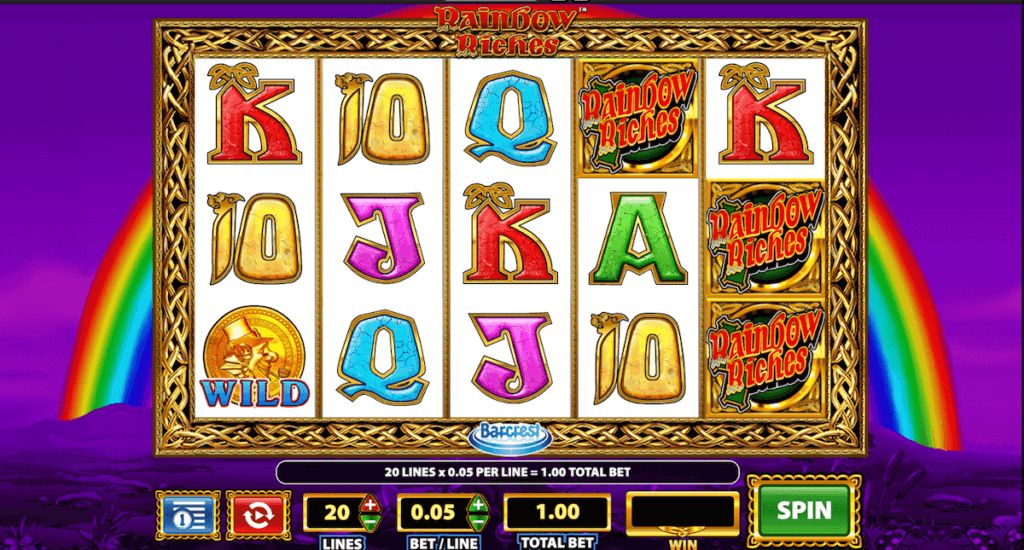 Play Rainbow Riches with the best bonus
If you've never played Rainbow Riches before you might discover you can test your enjoyment while reducing costs by taking advantage of great sign-up offers. Check out our promotions page to find out more.
You should always get a good idea of a game and its value or returns before playing.
Rainbow Riches Symbols & Payouts
Let's take a look at the symbols which make up this game and some of the technical data which will give us an idea of how the game plays.
The symbols
Rainbow Riches' symbols are in line with what we might find at the end of a rainbow. The game's high-paying symbols are made up of WILD coins from the leprechaun's private collection and the Rainbow Riches symbol. Other symbols are made from poker symbols ace to 10, with an ace offering the best return. There are also three special symbols, and landing three or more of these will unlock bonus features. They are a leprechaun, a wishing well and a pot of gold.
Paytable

Paylines
This online slot game has 20 paylines that pay from left to right. If there are multiple wins on a payline they are all added together.
Minimum/Maximum bet
The minimum bet is $0.20, which covers all paylines, while the maximum bet is $400. I think 20 cents a spin is great for smaller budgets and high rollers should also be very happy with a $400 maximum.
Autoplay option
Barcrest allows players to set 5, 25, 50 or 100 auto-spins. There are settings that allow players to halt autoplay when they win or lose a certain amount.
RTP
Rainbow Riches has an average RTP of 95%.
Volatility
This game has a medium volatility, so the wait for any wins should not be too frustrating – but neither will they be very large.
Maximum win
The maximum win is 500x your stake, which is relatively high for a slot with medium volatility. It can be achieved in any one of the three bonus features.
Rainbow Riches has a nice betting range, but watch out for the RTP and volatility.
The RTP is on the lower end for an online slot and when this is put with a medium volatility could result in a dangerously boring combination. Barcrest has, however, stuffed this game with special features – so let's see how they affect our gameplay.

Game Features
If you're not taken in by the colorful design, then Barcrest has spoiled fans of Rainbow Riches by treating them to three bonus features on top of the typical wild symbols. Each of the three special bonus features are unlocked by landing three or more of their related symbol. Ensure you fully understand how they work by reading our guide below.
Rainbow Riches Bonus Features
Wilds

The wild symbol is hard to miss in this game it dons a leprechaun posing like Lincoln on a penny – and if this doesn't catch your eye, the symbol is emblazoned with WILD. It can be substituted for any symbol except the Road to Riches, Wishing Well or Pots of Gold symbols.
Wishing Well
In this case, the symbol to look out for displays a well with a bluebird perched on top. This bonus feature rewards you with multipliers. When it is activated, the player chooses one of the wishing well symbols and is given a multiplier between two times and 500 times your stake.
Road To Riches
The symbol for this feature is the laughing leprechaun and landing three of them will take you to a new screen. This quickly reveals that you need to guide the leprechaun back to his pot of gold. To guide him along the path you must spin a wheel with eight sections and seven options – 1 to 6 and two collect options. Landing a number on the wheel moves you up the path that amount of steps. Landing on collect ends the round and rewards you with the multiplier you are currently on.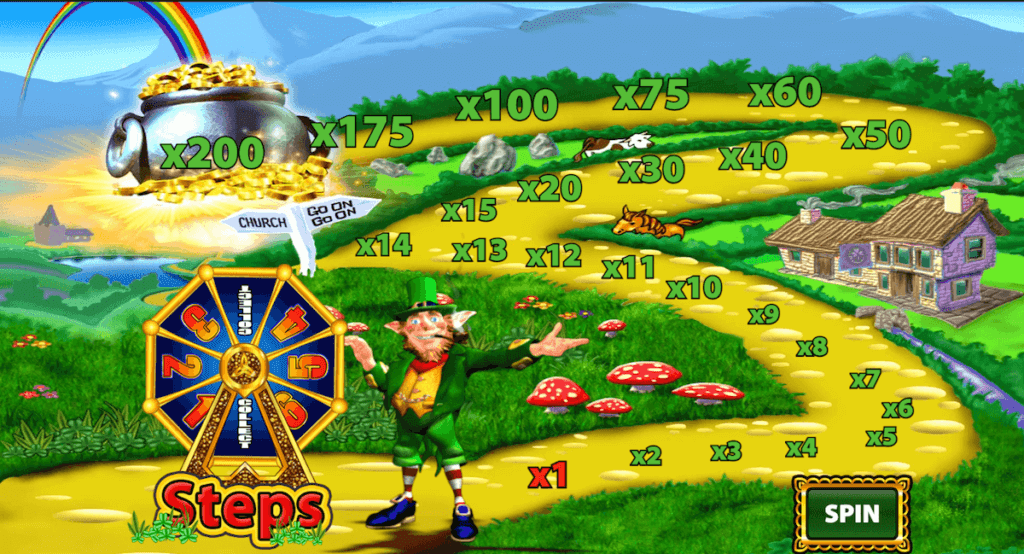 Pots of Gold
Look out for the pot of gold under a rainbow symbol. This bonus feature doesn't require any action from you. You will simply see three different pots – bronze, silver, and gold. They spin and when they stop you claim the corresponding prize. This prize could be as high as 500 times your stake.
Gamble function
You can toggle the gamble function with the button next to the spin button. After every win, when the function is enabled, you have the opportunity to essentially flip a coin and either lose or double your winnings.
Rainbow Riches Graphics & Sound
| | |
| --- | --- |
| Graphics | 2D |
| Optimized for Mobile | 👍 |
| Music | A harp's trill which I immediately associate with collecting coins in a video game |
| Special features | Bonus game, wild symbols, scatter symbols. |
Rainbow Riches uses bright colors and fortuitous imagery to attract players
Rainbow Riches is an old favorite adapted from a mechanical slot machine and I think this is never more obvious than when you are presented with the design. This is not a criticism, though. I think there is a reliable comfort to be found in its old-fashioned design, plus it has the feel of a physical slot machine. It also relies on big and bold colors which are bolstered by the rainbow background. The leprechaun has been very well realized, although I do think he comes off a little macabre in the Road to Riches symbol. Overall the symbols are also well-designed with little flourishes that bring them more to life, like the Celtic decoration on the poker symbols or the glowing of the gold on the Pots of Gold symbol.
Solutions if you have some issues with a game
Malfunction voids all play, so if a spin is interrupted your stake is returned and wins are declared void.
If there are any issues with the gamble feature, you should contact the casino operator's technical support.
If we have not covered any issue you get then Barcrest is a subsidiary of Scientific Games, which does have a dedicated support section on its website.
Conclusion
A choice of three bonus features is not common, even in more modern slot games. You can feel that Rainbow Riches has been adapted to be an online version of a physical slot machine. As a result, the design is more old fashioned and the RTP is slightly lower than I would prefer, however this does not take away from the gameplay at all and it is clear why this is an old favourite. There are more bonus features, but they are easy to understand, easy to enjoy and bring a potential 500 times your stake.
Other slots to play if you like Road to Riches slot
US fans of Road to Riches will also enjoy the following online slot games:
Rainbow Riches Megaways
Rainbow Riches Pick n Mix
Rainbow Riches Cluster Magic
Rainbow Riches Reels Of Gold
Rainbow Riches Slingo