Illinois provides access to 25 licensed land-based casinos, many of which are riverboat casinos that operate from a stationary position. It was the second state to legalize these casinos, giving players hope that it would be among the first to offer online opportunities as well. While casino sites remain unregulated by the state, there has been positive movement towards the online market.
Top Guide to the Illinois Online Casinos
Early on, the Prairie state impressed with legalization of pari-mutuel betting in 1927 and was among the first to allow a state lottery back in 1974. In 1990, the state became one of the first to allow mobile riverboat casinos, which were allowed to offer stationary gaming services since 1999. A decade later, the Video Gaming Act allowed slot machines in various locations, including truck stops, bars, and clubs that has liquor licenses.
The state also impressed with the internet movement, allowing online lottery in 2012 and legalizing online sports betting in 2019. Many suspected that the betting law would also regulate some of the best online casinos, but it's one of the few areas that remain illegal.
Are Online Casinos Legal in Illinois?
Gambling is regulated by the Illinois Gaming Board, which includes sports betting, casinos, lottery, and more. Their website provides detailed access to each legal section, which does not mention online gaming, as it remains illegal for the time being.
There are online casinos portraying to be licensed, which could be true in other regions. However, in Illinois, these are unregulated and unlicensed. Therefore, it's impossible to trust their gaming fairness and payment accountability among other factors.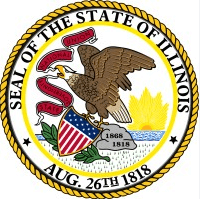 The ins and outs of Legal Play at Casinos in Illinois
The gambling law in Illinois is straightforward and currently allows for in-person retail betting, online sports betting, horse racing, online off-track betting, daily fantasy sports, and land-based casinos. Instead of stating what's illegal, it's safe to assume that anything that's not on the list should be considered illegal.
Online Sports Betting
Online sports betting is 100% legal in the state of Illinois and has been since June 2020. This includes access to top American sites such as FanDuel, DraftKings, and the ever-popular BetRivers. While the sports and fantasy sports sections are accessible on PC or mobile, the casino platform is only available where online casinos have been legalized.
Online Lottery
Illinois was the first American state to legalize online lottery in 2012. This provides direct access to the state lottery with PC or mobile devices. This was already a major step forward, adding to the state's $3 billion annual lottery revenue.
The Final Step is to Legalize Online Casinos
As seem with the information above, the state of Illinois has legalized just about all aspects of online betting, other than gaming. While there aren't any mentions of legalizing this sector, it's fair to assume that the state would consider this step soon. This would allow access to a massive variety of online games while protecting interested players with regulated online sites.  
Frequently Asked Questions
With over 20 land-based casinos available, players who would like to wager on Blackjack, Roulette, or other casino games would need to visit one of these destinations. Online gaming remains illegal, meaning regulated online casinos are not available yet.
BetMGM provides all their betting services online to players in the state of Illinois. However, this excludes access to their online casino platform.
The state of Illinois started to legalize some section of online gambling in 2012 with the state lottery. In June 2020, online sports betting became legal, but this does not apply to casino games such as slots, table games, and card games.
Currently, there's no movement towards legalizing online casinos. However, with online lottery and sports already available, this is one of the last sections that the state needs to be regulated.