Christmas Cash Pots review
Between the cutesy Santa and Santa's helper, it feels like you're playing a children's game. Aside from that, this slot has some good things going on as well as some shortcomings.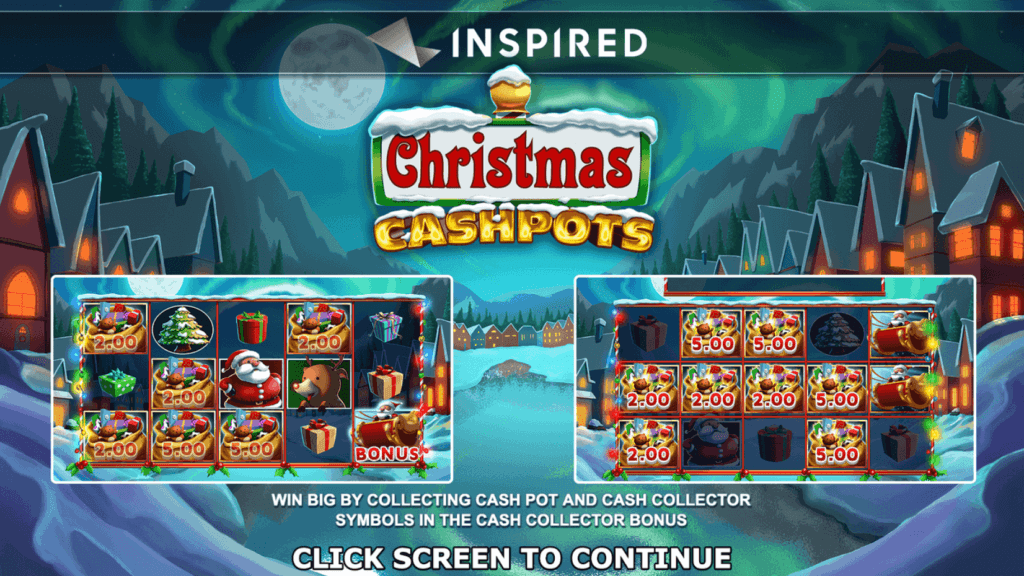 Christmas Cash Pots Review – Yet Another Cash Pot
Christmas Cash Pots is the latest iteration in the Cash Pots series by Inspired Gaming. Even though these slots are popular, the novelty has already worn off.
In the case of this slot, it's mostly a graphical update of previous versions, so you won't find new features if you played the other slots in the series. It doesn't mean this title is terrible, however. In this article, I'll check every aspect so you can decide for yourself.
Important items in Christmas Cash Pots
I followed a comprehensive list of steps to assess how good slots are so nothing is left unchecked. Here's what you'll find in this article about Christmas Cash Pots:
What Kind Of Slot Is Christmas Cash Pots?
This slot is a five-reel, three rows title with a Christmas theme.
GENERAL DETAILS
Slot type
Video slot
Number of rows
3
Provider
Inspired Gaming
Reels
5
Christmas Cash Pots looks fine at first glance. It's one more in a long-standing series of slots with some winning potential. It has some redeeming features, such as a Hold & Win bonus round and 10 paylines.
The maximum win is $250,000, which is good, but it's also the same as the max win of the previous title in the series, Halloween Cash Pots. I'd have thought, with this being a Christmas slot, the max win would be increased to give you a bit more holiday cheer.
What Are Christmas Cash Pots' Game And Bonus Features?
There are a couple of noteworthy features and game mechanics here. This is what I found:
| | | |
| --- | --- | --- |
| FEATURES | NO. | LIST |
| BASE GAME FEATURES | 2 | Autoplay, Bonus symbols |
| BONUS BUY FEATURES | 0 | / |
| BONUS GAMES FEATURES | 1 | Cash Collector Bonus |
Christmas Cash Pots Base Game Features are Okay
This is a basic slot in terms of mechanics. There aren't millions of paylines, progressive jackpots, or advanced autospin features. Instead, it offers a decent amount of variety through special symbols.
The Bonus Games feature is more interesting since they expand the game considerably. You'll find all the information below.
The symbols
There are 11 paying symbols: a sack with presents, four colored presents that yield the same win, Christmas stockings, a Christmas tree, reindeer, Santa's helper, Santa, and the Christmas Cashpots logo.
These are mentioned from lower to higher winning potentials. The sack nets you a 5x win when getting four of them, whereas the Christmas Cashpots' logo win is 200x when getting five.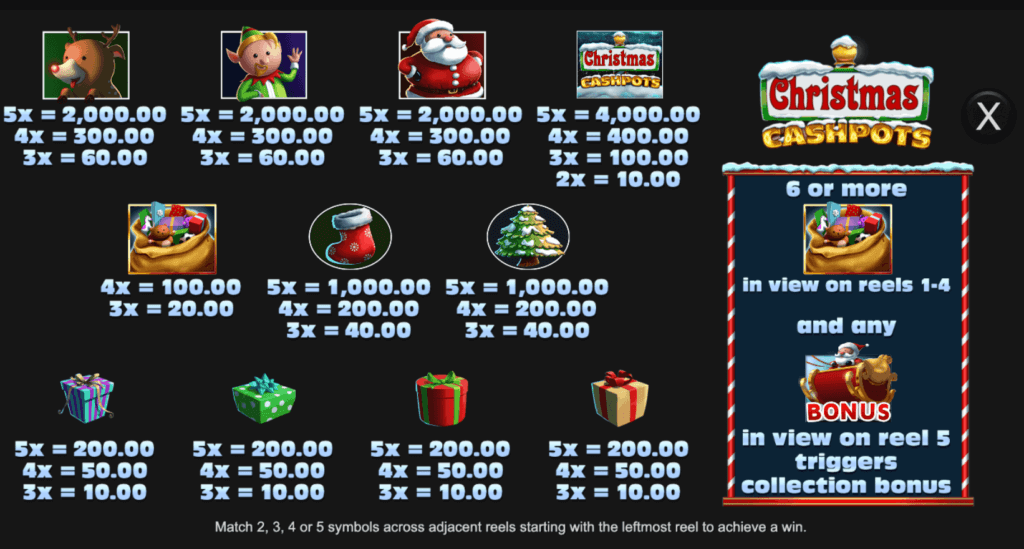 Special Symbols
The sack is not incredible in terms of multipliers, but if you get six or more on reels one to four, you get the Free Spins round if there's a Bonus Santa Sled symbol on reel five.
Bonus Buy Feature on Christmas Cash Pots
There is no such feature on Christmas Cash Pots.
Hold and Win feature on Christmas Cash Pots
It's called "Cash Collector Bonus" in this title. You get five spins; the only possible symbols are the sack and Santa's Sled. The sack symbols are sticky, so you can get a maximum of 12 since the fifth reel is reserved for the Sled. You need to get at least one of these to win; if you get more, the winnings are multiplied.
Are there Bonus Game Features on Christmas Cash Pots?
Only the Cash Collector Bonus is available. There are five Free Spins as part of the Bonus Round.
Some Additional Features In Christmas Cash Pots
There are some other features too. These include:
SPECIAL FEATURES
Autoplay option
👍
Change the speed
👍
Mute the sound
👍
Adjustable bet size
👍
The spin button works as an Autoplay button if you press it longer. There are extra autoplay functions like setting loss limits. Finally, the adjustable bet size ranges from $0.1 to $60, which is a good range.
What's The Story Behind Christmas Cash Pots' Theme?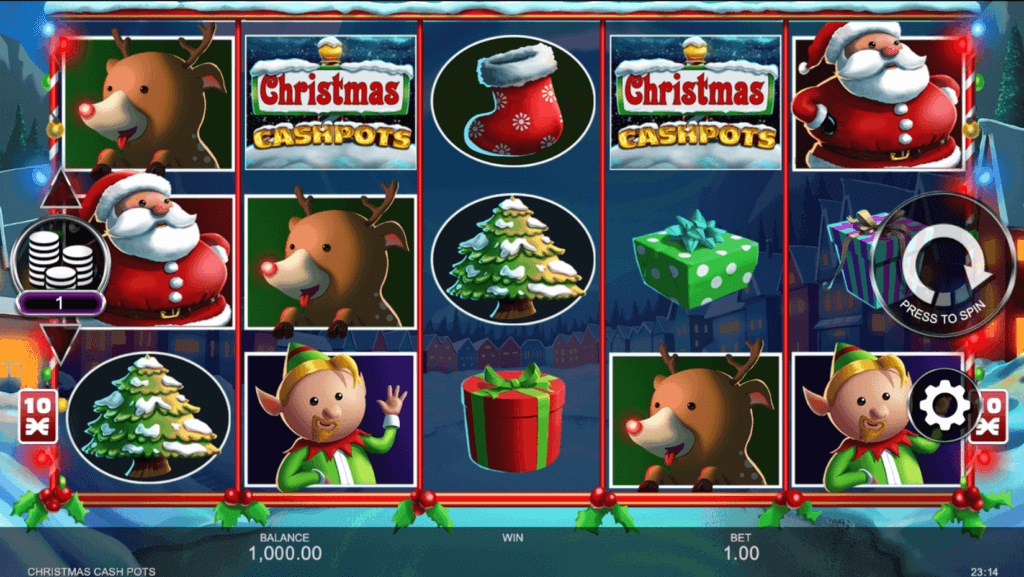 Christmas Cash Pots is part of a series of similar games, namely the Cash Pot series. These games are very similar, cosmetics being the main difference between them.
In this case, the game looks like a reskin of Halloween Cash Pots. The main differences are the graphics and sound, as the symbols have the same payouts. 
Cute Graphics
If you couldn't bet on this title, it would be suitable for children, at least graphic-wise. Plump Santa and the adorable reindeer are beautifully rendered, as are the other symbols and background.
Good Sound Effects
Some Christmas slots are a bit timid regarding sounds, but it's not the case here. It boasts jingling bells and loud Christmas music. Everything sounds perfect.
Who Made Christmas Cash Pots?
Christmas Cash Pots was made by Inspired Gaming. This is a major company that offers not only online slots but also land-based casino machines. They have more than 50,000 of them installed throughout the world. The company is located in the UK.
Here are more slots by Inspired that you can try
Inspired has developed slots with many different features and themes. Here are my recommended ones:
Desperados Wild Megaways
Elemental Beasts
Sparkle
Summing Up – Is Christmas Cash Pots Worth It?
Overall, Christmas Cash Pots is a decent slot, but nothing more. When comparing it to other slots in the same series, it's somewhat lacking. The max win is okay, but I'd have liked to see an increase over the previous title in this slot series
But, if you want to get into the Christmas Spirit, this is a beautiful-looking title with an interesting Hold and Win feature. Compared to other festive slots, it's a bit basic, but if you're looking for a casual spin, this should do the trick.
How do I win at Christmas Cash Pots?
You win by landing 3, 4, or 5 identical symbols over ten paylines. The maximum win can be achieved in the Bonus round.
What is the RTP of Christmas Cash Pots?
The RTP of this title is 96.5%.
What's the Volatility of this slot?
Its volatility is rated as medium-high. It means you might get better prizes but more sporadically than in other titles.
Is Christmas Cash Pots available in the USA?
Yes, this game is available in several states, and you can check for online casinos with Inspired Gaming slots to find it.
Are there Free Spins on Christmas Cash Pots?
Yes, there are five free spins that are part of the Bonus Round.
How do I find the best casino to play this slot?
Many casinos offer Christmas Cash Pots. The best one should be the most tailored to your needs, and safe. I recommend you browse several casinos and their terms to find the best one.