Tiki Reward review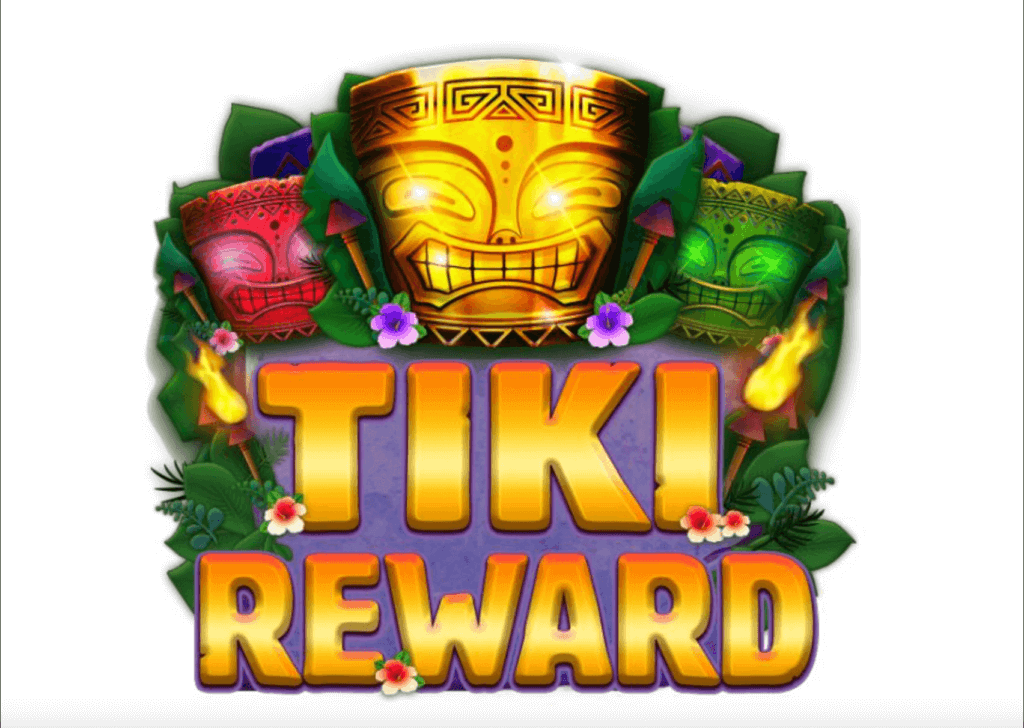 We don't know about you, but to fully enjoy a casino game, we must understand what's under the hood. We are not talking about the design on display, but the mechanics behind it, the RTP, bonus game features, and even how many spins you can take for a buck.
Knowing this information is not only suitable for your overall gaming experience, but it is the hallmark of any serious online slot machine lover. It shows how seriously you take your gaming and sets you up with the best possible chances for success.
But to be honest, finding this information is sometimes challenging work. That is why, at usonlinecasino.com, we have done the heavy lifting, so you don't need to. Here we present the case of Tiki Reward, an online slot machine game from All41 Studios.
What I checked in Tiki Reward
Table of contents:
☑Which Game and Bonus Features Tiki Reward has?
☑What innovative Special Features can be seen in Tiki Reward?
☑ What's the Story behind Tiki Reward's Theme?
☑Is Tiki Reward better than the others?
What is Tiki Reward?
| GENERAL DETAILS | | | |
| --- | --- | --- | --- |
| Slot type | Video Slot | Number of rows | 3 |
| Provider | All41 Studios | Reels | 5 |
Tiki Reward is an online slot machine game from All41 Studios released in 2020. The game features five reels on three rows and 50 paylines. Spotting an instantly recognizable Polynesian theme, Tiki Reward has a soundtrack that will take you back to the tribal council in the Survivor TV series. The Tiki Reward slot RTP is 96.30%, putting well within the range of other top online slot machine games.
Which Game and Bonus Features Tiki Reward has?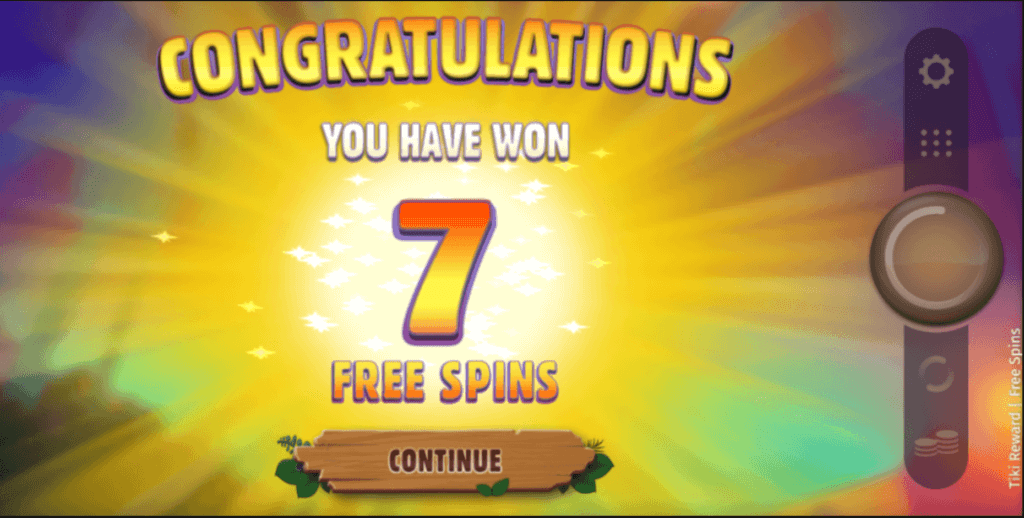 | FEATURES | NO. | LIST |
| --- | --- | --- |
| BASE GAME FEATURES | 5 | Wilds, multipliers, scatters, free spins, tiki jackpots |
| BONUS GAMES FEATURES | 4 | Scatter, tiki symbols, glowing frame, jackpots |
Quite impressive base game features
Tiki Reward has a set of exciting base game features. You won't go for long without seeing tiki symbols populating the screen and providing valuable rewards. The game also features scatters, which, when collected three of a kind on the screen, bring up the Tiki Reward bonuses round.
The symbols
Like most online slots, Tiki Reward has low-paying card symbols. But the highest paying icons or the gold-colored tiki symbols. Landing three of this type of symbol on the screen will earn you 1000 times your wager.
Paytable
It's always good to know what you're getting yourself into. A brilliant way to do this on Tiki Reward is to review the slot paytable. There you will learn what you can expect when each type of symbol lands on the reels.
Special events that can occur during the base game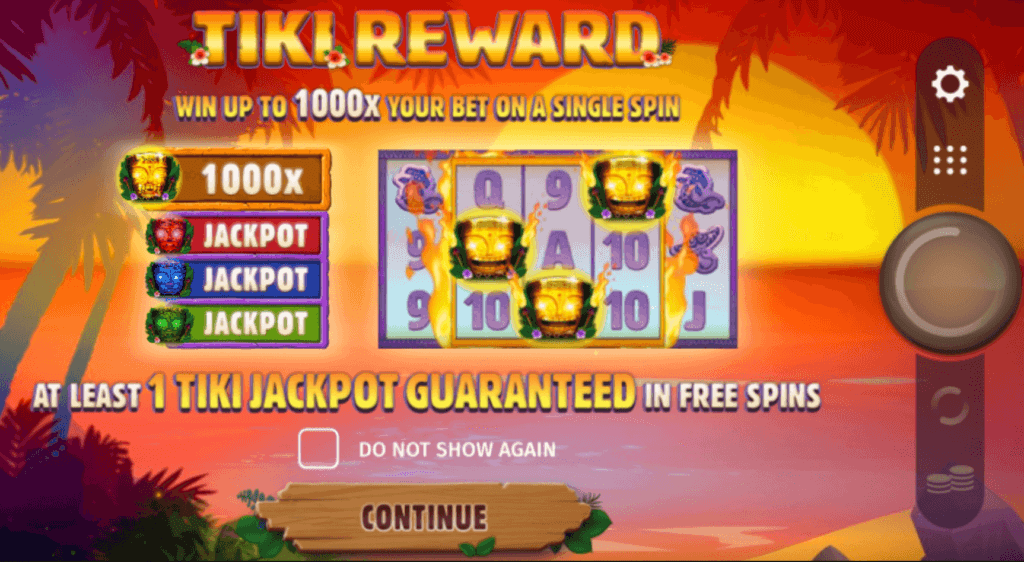 The base game can give you multipliers on reels 2,3, and 4. The size of your payout will depend on what's on the reels and your bet size.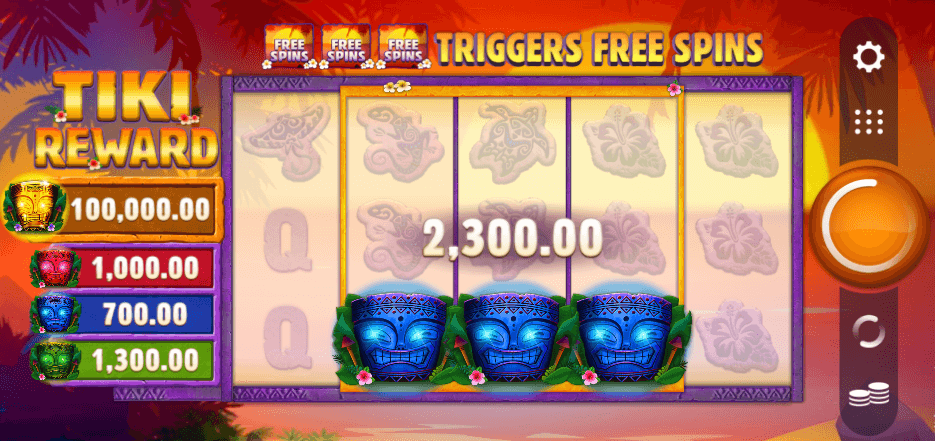 We found the base game highly engaging in our Tiki Reward review. First, you can instantly win in the Tiki Reward jackpot feature. To activate the jackpot, you need to land the same colored tiki symbols in the middle frame.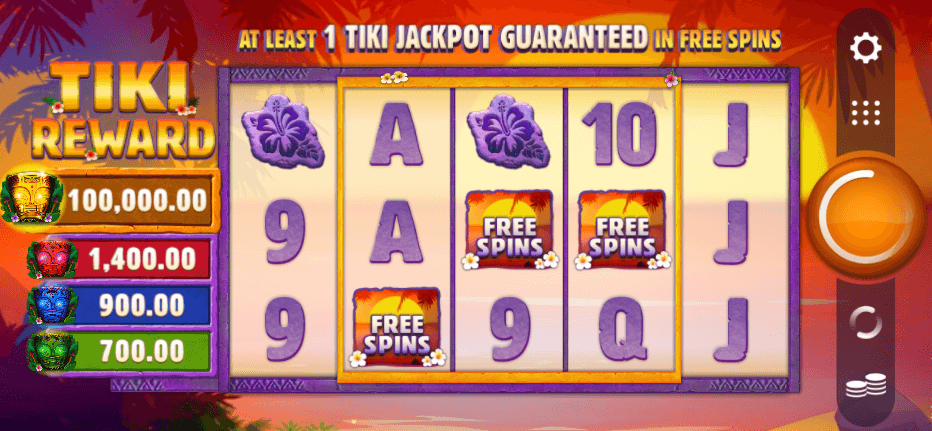 The most exciting feature to look out for is the free spins bonus. You can get into the free spins bonus when you land three free spin scatter symbols on the reels. The game will award you with seven free spins which can be reactivated as you play the bonus round.
Interesting bonus game features
Players can look forward to a single bonus game on Tiki Reward. While you may wish for more from this slot machine game, having a single bonus round makes things pretty straightforward in our opinion.
+1 free spin symbol
There are some interesting features to look forward to in the bonus round. the Tiki Reward slot game gives you seven free spins at the start of each round. As you play, you can land the +1 symbol. This will add another free spin to your balance and extends your bonus gameplay.
Blazing frame feature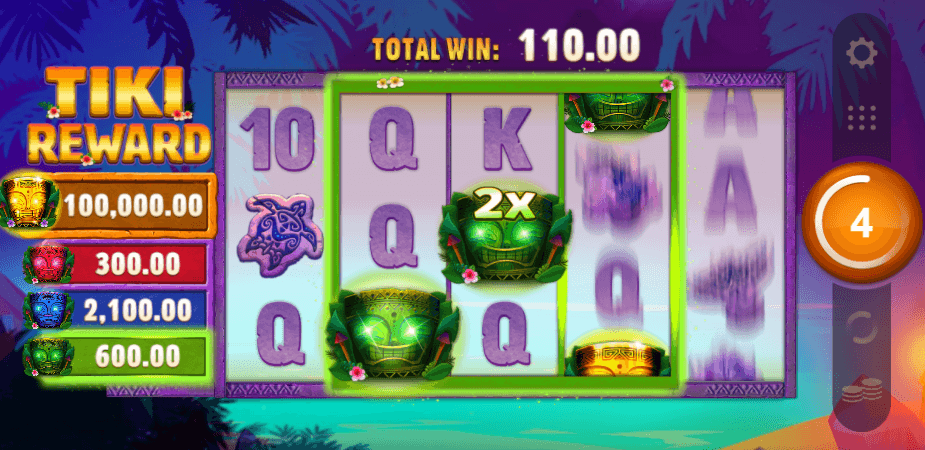 We found more rewards in our Tiki Reward slot machine review. A mid-frame encompassing reels two, three, and four on each spin changes color. Tiki symbols corresponding to this color appear more frequently in these reels, ensuring you get better chances of winning.
What innovative Special Features can be seen in Tiki Reward?
| SPECIAL FEATURES | |
| --- | --- |
| Autoplay option | 👍 |
| Change the speed | 👍 |
| Mute the sound | 👍 |
| Adjustable bet size | 👍 |
Our Tiki Reward slot review revealed a standard autoplay option that you can use to set the number of spins you want the game to take automatically. Once you have that done, you can sit back and watch the gameplay itself.
It's not uncommon for online casino players to want a quicker game. Tiki Reward sites allow you to change the game speed for faster gameplay.
Previously, we mentioned the Tiki Reward soundtrack. Honestly, for us, it is quite befitting, but some Tiki Rewards reviews we found online state otherwise. In any case, Tiki Reward allows you to turn off the music and focus on the reels.
The last feature is the adjustable bet size. While it is not unique to this Tiki Reward New Jersey review, it is still a useful option to have around. You can adjust the Tiki Reward slot bet size from 0.20 to 100 credits.
What's the Story behind Tiki Reward's Theme?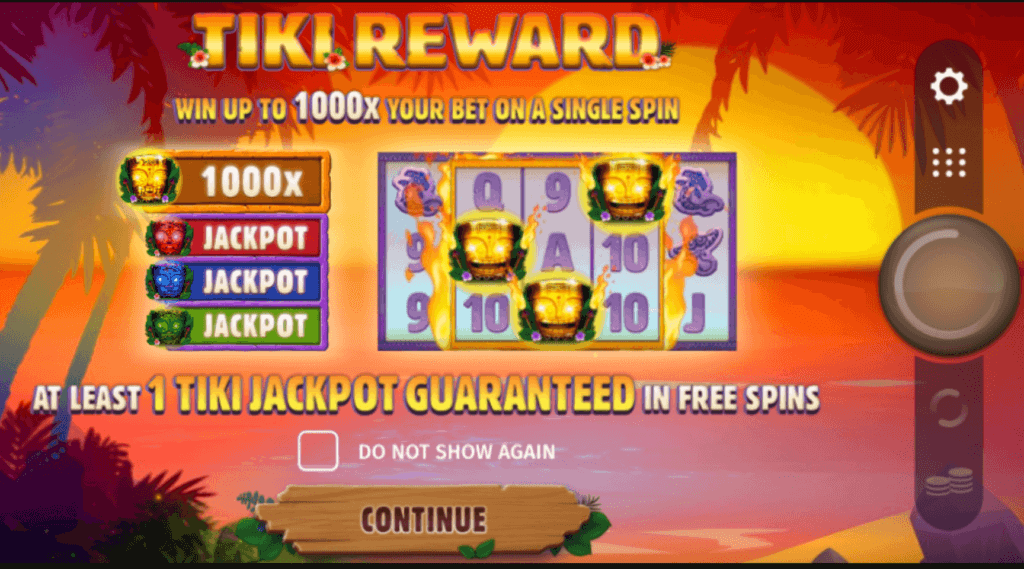 Tiki Reward is well constructed and displays a straightforward Polynesian theme. The game features low-paying card symbols and a set of four tiki wilds that can replace any symbol on the display except scatter symbols.
Pretty decent graphics
In keeping with titles coming from this supplier, Tiki Reward features a well-designed aesthetic. The graphics are unmistakable, and the quality of the workmanship is exceptional.
A fitting sound
Because of the banging soundtrack, you can instantly tell the game has a remote island vibe. We imagine that most players would enjoy this soundtrack but if you do not, you can easily switch it off in the game settings.
Who made Tiki Reward?
Tiki Reward is supplied by All41 Studios, a subsidiary of the famous Microgaming. The game is available at SugarHouse Casino and the Golden Nugget.
Conclusion – Is Tiki Reward better than the others?
Tiki Reward is a perfect presentation of the casino games coming out of All41 studios. Players have come to expect a high level of workmanship from these titles and Tiki Reward doesn't disappoint. Devoid of any fancy gimmicks, you can enjoy taking rewards in both the base game and also the sole bonus round.
Author
Casino bonus specialist
Pride is a five-year veteran in the exciting world of US and UK casino gaming. His mantra is "Keep it simple," which he always does while giving you the low down on the latest casino gaming trends. Whether it's reporting on breaking news or getting down to the brass tacks in a detailed casino review, Pride provides clear, reliable, and unbiased information to help you make your gaming decisions.