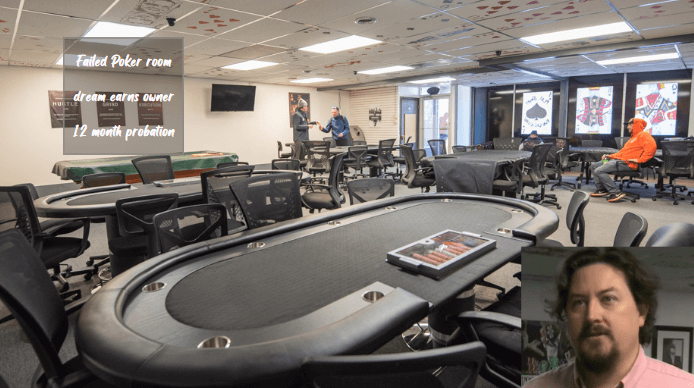 The Michigan Gaming Control Board has issued a 12-month probation to a pro poker player for operating illegally in the state.
Key takeaways:
12 months probation for operating an illegal poker room
Both parties agree that earnings and assets from the operation will be forfeited to the state
The poker room closed in July 2021
A pro poker player, Joshua Thatcher, pleaded guilty to a felony count of gambling operations. The accused was placed under a 12-month probation for flaunting the state's gambling rules and agreed to forfeit earnings from the operation to the state.
Poker initially spun as a private members club
Thatcher established 906 Poker Social in April 2021. Though the club would only be open for barely 3 months, its launch received wide coverage in the press and local media.
Details of the case revealed that instead of going for the legal route and acquiring a gambling license, Thatcher spun the enterprise as a private members club. 906 Poker Social operated in Marquette, Michigan, and charged various membership fees to its customers. You also needed a $10 per hour rent-a-chair fee to use their facilities.
The initial stages of the venture were a success, only to see their premature demise on the 8th of July in 2021, thanks to an investigation carried out by the Michigan Gaming Control Board Criminal Investigations Section and the Michigan Department of the Attorney General.
Unregulated gambling operations bad for Michigan residents
Weighing in on the issue, the executive director of the Michigan Gaming Control Board, Henry Williams, had no kind words for establishments like 906 Poker Social. He said, "Unregulated gambling operations do not offer Michigan residents the same protections provided through legal, regulated gambling,"
"The Michigan Gaming Control Board's mission is to ensure fair and honest gaming in Michigan, and we partner with the Michigan Department of Attorney General to investigate and eliminate illegal gaming activities across the state," he added.
Dan Michelle Nessel, Michigan Attorney General, also made her feelings known: "My office remains committed to upholding business rules and regulations, and that includes our state's gambling laws. I appreciate the work the Michigan Gaming Control Board has done to protect Michigan residents and businesses."
Author
Casino bonus specialist
Pride is a five-year veteran in the exciting world of US and UK casino gaming. His mantra is "Keep it simple," which he always does while giving you the low down on the latest casino gaming trends. Whether it's reporting on breaking news or getting down to the brass tacks in a detailed casino review, Pride provides clear, reliable, and unbiased information to help you make your gaming decisions.